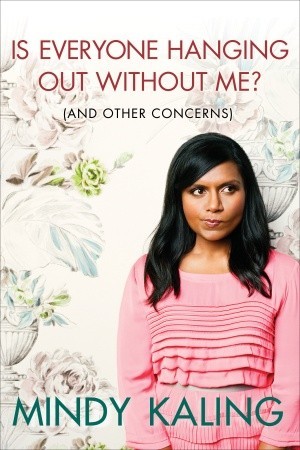 Author: Mindy Kaling
Narrators: Mindy Kaling
Audiobook length: 4 hours and 37 minutes
Genre: Autobiography, humor
Publisher: Random House Audio
Check out the synopsis on Goodreads.
Okay, so I've never watched The Office (well, except for about 30 minutes of one episode I was forced to watch and didn't like) and the only thing I've seen Mindy Kaling in is The 40-Year Old Virgin and about three episodes of The Mindy Project. In case you were wondering, I also didn't like The 40-Year Old Virgin. You're probably also wondering why in the world I would want to read/listen to a book by someone I have little to no experience with. Well, even though I haven't seen her in much, I've always found her to be pretty funny and a lot of people (including author Jennifer E. Smith – who I love) have raved about how much they loved this book. I had to check it out.
I listened to this whole audiobook on a weekend trip and it made the drive feel both short and long. I doubt this book was meant to be an insightful piece of literature, which is good because it isn't. It's silly, light-hearted and quite fun. At times. I can't say that this book is laugh-out-loud funny the entire time. It's not. I did laugh though – more than I thought I would.
There's a lot of lists in this book, and I'm a big fan of lists. We get Mindy's favorite comedy moments, and I agree with a lot of them. Except every mention of Will Ferrell (and there are A LOT), who I don't find funny. I didn't really enjoy her lists about dieting – she mentions how she was constantly made fun of for her weight as a child but she was comfortable with herself, yet she is constantly trying new diets and regimes. Blah.
For the first two-thirds or so of the book, I was enjoying myself. It's an interesting and funny memoir about her super normal childhood and upbringing and then her subsequent super unlikely rise to fame and success. But then she reaches her current height of success at NBC and the book just falls on its face. There are essays entitled "Why Do Men Put on Their Shoes So Slowly?" and "In Defense of Chest Hair" which are just as silly and pointless as they sound. This is when I was rolling my eyes a lot, which probably isn't that great of an idea while you're driving down the interstate but I couldn't help it.
Overall, I mostly enjoyed this book, because Mindy is charming, funny, silly, and as much a fan of lists as I am. It made my trip feel a lot more fun than it usually is and the boring, drab trip down to the coast of Mississippi wasn't as blah as normal. So yay for that! But then the trip back home started off well and then made me wish I had brought another audiobook. I'm glad I finally listened to it though. Recommended for fans of Mindy Kaling, for sure, and fans of fun audiobooks, Hollywood stories, and tales of living in NYC.
P.S. If you aren't a fan of Kaling's voice or are iffy about it, I'd read the physical book.